Are you looking for Exhausts Service for your vehicle?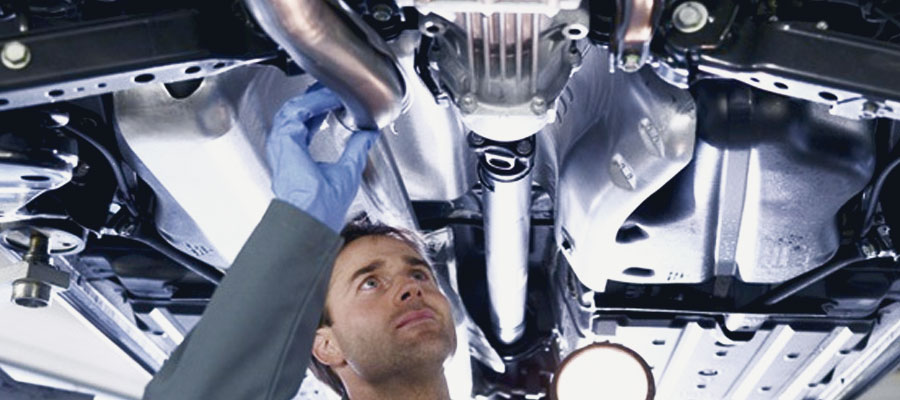 For many reasons, a car's exhaust system needs to be fully functional.
Douglas Tyre And Autocare is a professional car workshop for exhaust repair Darlington. Our experts work with the latest equipment to check various exhaust system components to ascertain their functional levels. In case we detect any faults, we will repair and replace the parts as necessary with your consent. We will never start working on a vehicle without informing the customer first. We will also issue an estimate of the costs, so the customer can make an informed decision.
What do our experts check?
Our exhaust service Darlington covers the following components:
Exhaust manifold
Catalytic converter
Oxygen sensor
Tell-tale signs of a damaged car exhaust system
Some common symptoms of a damaged car exhaust system are:
Increased emission
A malfunctioning car exhaust system is unable to filter the exhaust gases properly, resulting in increased impurities in emissions. Moreover, reduced fuel efficiency is also a subsequent result of this issue. It is imperative to search for exhaust repair near me in such a case.
The stench of noxious fumes
If you can perceive the stench of noxious fumes inside your car cabin, it can be due to a blocked exhaust manifold.
Rumbling noises
Do you hear roaring or rumbling noises? This can be caused by a defect silencer or a blockage or corrosion in the exhaust pipe.
Engine misfire
A blocked catalytic converter hinders the combustion process, thereby resulting in frequent engine misfiring.
Why should you opt for our exhaust repair Darlington?
Some of the benefits of exhaust repairs include:
Restore optimal fuel efficiency
It also ensures your vehicle's emissions are back at normal levels
Helps avoid MOT fails
Why choose Douglas Tyre And Autocare?
At our facility, we only hire technicians with proven experience and sound technical knowledge and skills.
All our services, including exhaust service Darlington are available at affordable prices, done efficiently and accurately with minimum TAT.
We use OE-grade spares to replace any damaged exhaust component to ensure reliable post-service performance.
You can book services from the comfort of your home and avoid queue time conveniently.
Therefore, if you notice any of the symptoms discussed above, do not hesitate to drop by at our facility at Unit 1 Chestnut St, Darlington DL1 1QQ, UK during business hours.
For any further information on car exhaust repair Darlington or other services and products that we offer, please call us on 01325 381242 to talk to our experts.