Search Tyres by Vehicle Registration
Are you looking for Tyres Size for your vehicle?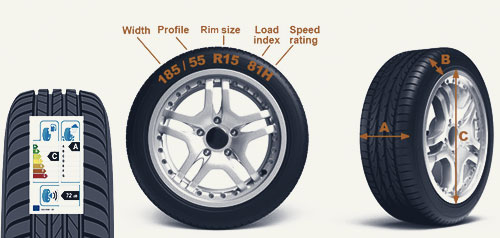 Want to buy car tyres Darlington?
For that, you need to be well-aware of the correct tyre size as per your car model.
Douglas Tyre and Autocare Ltd. is a prominent retailer of tyres Darlington, stocking products from leading manufacturers in multiple sizes and variants.
Our tyre experts will gladly help you understand tyre size meaning. This way, you can make an informed decision regarding the correct fit.
How to know the right tyre size.
You can find the correct tyre size in your vehicle handbook.
Alternatively, you can use the tyre finder tool on our website. By typing in your car's reg. Number.
We still believe though, motorists should know what all the letters, numbers, and symbols imprinted in every tyre's sidewall means.
Codes and symbols
Tyre width: It is the first three digits you see on a tyre. A tyre's width is measured in millimetres.
Aspect ratio: Following two digits imply the profile or aspect ratio in percentage. It is the tyre's height from the base of its tread to the rim.
Radial: In most of the tyres, you will come across the letter 'R'. This alphabet denotes that the unit features radial ply construction. There are two other variants available that are less popular. They are-
D referring diagonal-cross ply
Rim diameter: The next two digits tell about the rim size, which is measured in inches.
Load index: After rim size, you will find the load index. It informs you about the maximum weight one properly inflated tyre can withstand.
Speed rating: It indicates the maximum speed at which the tyre can be driven safely when optimally inflated.
Let's take an example to understand this: 185/60 R15 84H
What does that imply?
185 is the tyre width measured from the tyre's inner sidewall to its outer sidewall in millimetres.
60 is the profile or aspect ratio in percentage.
R indicates the radial construction of your model.
'15' refers to the rim size, that is, the diameter of the wheel rim in inches.
'84' denotes the load capacity. This particular tyre can carry a weight of up to 500 kg.
H is the speed rating of the unit. This model can deliver a maximum speed of 130 miles per hour.
Still looking for tyres near me?
Drive-in to our facility at 1 Chestnut Street, Darlington, Douglas, DL1 1QQ to purchase and your preferred set of new car tyres Darlington.
Alternatively, you can buy car tyres Darlington hassle-free from us online by just following a few simple steps.
Please call us on 01325 381242 or send an email to mike@douglastyreandautocare.co.uk if you have any questions.